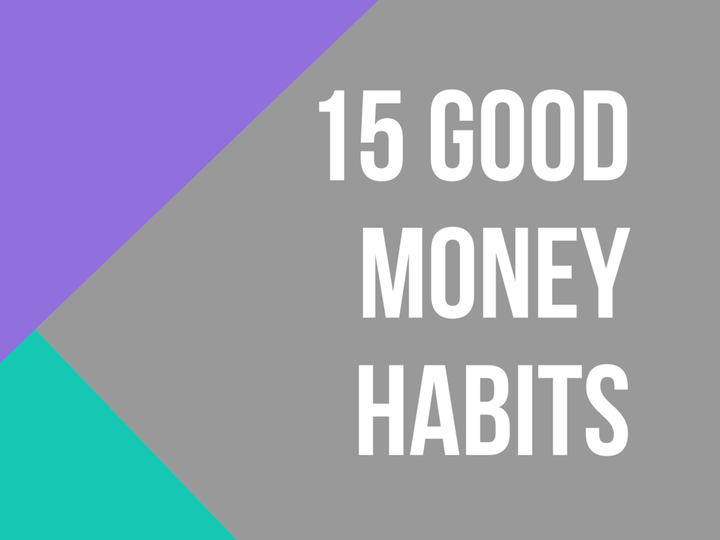 May 11, 2018
Make good money habits a part of your daily and weekly routine as this is key to operating a good money system at home.
If you treat your domestic economy like a business and be active in managing the money well, you will be rewarded with a great working system that keeps you debt free, bills paid on time and even gain savings for a good lifestyle – even on a low income.
Start by looking at this list of easy ways to turn your finances into great habits. You'll keep on top of everything, knowing exactly what is coming in and going out.
1. KNOW EXACTLY HOW MUCH YOU EARN AND HOW MUCH YOU SPEND.
Know your exact income, weekly, monthly and annually. You could even break this amount down to a daily amount to find out how much you're paid each day from your employment. Get to know the amounts you regularly pay out to companies and as other expenses. This will make you aware of your spending habits, reminding you that you can only spend less than is coming to you.
2. SPEND LESS THAN YOU EARN.
This is a no brainer. By spending less than you earn you can always stay within your budget. You do not want to go into debt just to pay for your living expenses.
3. CUT BACK ON EXPENSES WHERE YOU CAN.
Every one can cut back on some expenses and you should try to cut back the cost of at least 2 or 3 bills each year. Go to the websites of your current companies and see if they have a better plan or online offer you can take advantage of to make your bills cheaper. Look at any amount you can reduce.
4. ALLOCATE ALL OF YOUR INCOME.
Follow your list of expenses (sounds better than budget) and distribute amounts each pay within your bank accounts and wallet to be ready. Doing this repetitively each pay will form an automatic habit as amounts will be growing and you will see your budget is working.
5. PLAN YOUR GROCERIES.
If you can, try to keep grocery costs to a similar amount each pay. Know what to buy and only buy your groceries once each pay period, not daily small amounts.
6. PAY ALL BILLS AND EXPENSES BY THE DUE DATE.
This will avoid any late fees. Paying by the due date can also save you money in discount incentives (some electricity companies) and will keep your credit score positive. It also feels good to get rid of the bills as soon as they come in.
7. KEEP YOUR CAR MAINTAINED.
By getting the car regularly serviced you're able to keep on top of any repairs before they cause you to break down and cost more. Plan ahead for the extras like certain mechanical needs and tyres and know what needs fixing at which mileage count. If you let these go, your car will become too costly to fix and will cost you more in the long run.
8. REGULARLY REVIEW EVERYTHING IN YOUR BUDGET.
From expenses and fees to spending money and savings. If you want everything to work well and flow you need to keep looking at amounts you allocate from time to time. Keep up with all amounts going in and out. Can you change anything to save even more money or move some things around to work better for you?
9. SHOP AROUND FOR CHEAPER DEALS.
Try to avoid paying retail for anything, as they have a huge price mark-up. You should shop around for the best store deal or better yet, search online as you can save up to 50% by buying items this way and waiting for it to arrive with patience. Don't pay too much for instant gratification in store.
10. IGNORE TEMPTATIONS AND IMPULSE BUYS.
These can be our biggest finance killer. Unplanned purchases put us behind, create debt and only make us happy for a short amount of time, whereas the debt you create from this can last months. If you're tempted, find it at a cheaper price or just wait a little longer to buy the item after you have saved for it.
11. NEVER BUY A NEW CAR.
Cars depreciate way too fast. Try to buy a newer used car with low km's instead and keep it for at least 10 years. You then know what has been replaced or fixed and by keeping it maintained, it should keep running well and you'll be debt free by not updating it often.
12. SAVE FOR AND KEEP AN EMERGENCY FUND.
This fund should be at least $1000. A good back up stash to have incase of those unplanned emergencies or breakdowns. If you're unlucky enough to need spending this stash, top it back up as soon as you can to always keep at $1000. We all know when one thing needs replacing or fixing, another 2 usually follow. 
13. AVOID HIGH INTEREST RATES ON CREDIT CARDS AND LOANS.
You should be aware and wary of interest rates you're currently paying. Can you find somewhere else with less interest on your loans and credit card? There are always offers with better rates out there, including credit cards with 0% for 12-18 months. It's worth getting a new card for this rate. Find offers and take advantage.
14. PLAN ALL SPENDING.
Plan all spending in advance from groceries and fuel to clothes and eating out. Plan what you're going to buy with your allocated money and don't spend more than you've allocated for them. Write lists and stick to them.
15. AUTOMATE ANY PAYMENTS YOU CAN.
Set up direct debits and auto payments so you don't have to physically pay them. You only have to allocate amounts for these bills and make your to do list easier. Keep watch on all bills that are coming up due to make sure amounts are sitting in accounts ready for withdrawals/direct debits.
Try to start putting some of these good habits into action until they become habitual. Adopt all of them over time to make the most of your income.
This is part 2 of 3 in the series and topic of 'money habits'. Read part 1 & 3 here:
DO YOU NEED TO FORM GOOD MONEY HABITS
15 BAD MONEY HABITS YOU NEED TO STOP
What are your best money habits that could be added to this list for others to read?
Add yours to the comments section below.