Does your budget need a good detox? 
Sometimes we need to set aside a period of time to achieve a goal and when already following a budget the best solution is to cut costs or permanently reduce them. With a budget detox you will find extra money to do more with.
Most companies rely on us to forget about how much we're paying them and it becomes a comfortable habit. Before we know it, we're paying too much money on expenses and have picked up a few extra over the years.
I recommend a good detox every 2 years. I find this is the amount of time many of my contracts run and after a couple of years I would have lost touch with others needing to check-in and have a good clean out. It causes me to look at ALL of my expenses to see where I'm wasting it and areas I might be able to save. 
I don't rush the process either, sometimes taking 6 months to get through my list depending on my time and my due dates of bills paid. 
Want to rid your budget of any toxins to find more money? 
Join me as I go through my variable expenses to cut costs in my budget with weekly updates added to this page. When finished it will create a big resource to use any time your finances are ready for a budget detox.
Budgets are made up of many parts and expenses but all of them belong in one of two categories;  fixed expenses and variable expenses.
When having a budget detox or creating one from scratch it's important to start with these two categories to file expenses to
1. Determine the frequency of payment required
2. Prioritise the payment
3. Find it's amount
Lets look at what both categories are first.
FIXED EXPENSES
This category is the easiest of your budget to control because it's made up of expenses we pay every time we are paid. 
They are regular and of a fixed amount or similar cost each time they're paid.
By paying these regularly, they allow us to continue to function on a daily basis.
We always seem to make sure there is enough money for these as we know they will be paid again once we are.
As we all live different lives, these costs might slightly differ for every household but generally fixed expenses are made up of; 
RENT/MORTGAGE
GROCERIES
FUEL/TRANSPORT
PERSONAL SPENDING
(HOUSEHOLD GOALS - paying off debt & saving/investing)
VARIABLE EXPENSES
This category can be hard to control because it's made up of other irregular expenses.
Basically, all other expenses in our life that are not paid every time we are but due monthly, quarterly or yearly.
It can be a huge category based on both other needs and wants that we pay for.
A category of sub-categories. Confusing? I know. This is why many people avoid creating their budget to begin with.
An area we can be unprepared for because they're not due regularly causing budgeting chaos and out of control spending.
Again, as we have different lives our variable expenses will be different but can be broken down into its own sub-categories of
SERVICES
HEALTH 
EDUCATION
PROTECTION
LIFESTYLE
FIXED EXPENSES
Write down a list of all of your weekly or fortnightly expenses you pay each time you are paid, without fail.  
VARIABLE EXPENSES
Write down a list of all other expenses due at other times, monthly, quarterly or yearly. Include the amounts you're currently paying so you're able to compare the savings you make during your budget detox.
Download to fill in or print the list below as a guide for your variable expenses. Add all other costs you will have throughout the year.
Budget Detox
Print & fill in your current amounts to find areas you might be able to cut costs.
Budget Detox of Variable Expenses_fillab
Adobe Acrobat Document
119.0 KB
*Dual incomes and couples, you will have the best outcome when performed together so you're both on the same page and working towards the same household goals together.
Once you've created your list of variable expenses, re-order these from most required needs to least wanted. Most required would include things like power and water because we absolutely need these to function. All other variable expenses are choices that we need to make for our own household and lives.
The bottom of your list is where you might be able to get rid of some all together. Maybe you have subscriptions you've been paying for but not getting use or value from? Other savings can be made in your list where you think you'll be able to cut costs or find a way to make it more affordable by intentionally causing the expense to go down. 
*A NOTE ON BEING INTENTIONAL
Being mindful about your expenses will cause intentional savings because we cannot change anything until we're aware of our situation and can see the overall picture. The biggest savings can be made when we're intentionally looking for it. 
Often, our lifestyle (wants) becomes one with our needs and this can cause budget leaks. Lifestyle choices are great and encouraged but not at the detriment of your needs. It is the #1 cause of budget failure and use of credit cards. The solution is to ask ourselves if we need or want the cost by finding its value for your household. By finding the answer we're able to arrange our list in order of priority.  
From here we can then easily detox our budget the way we need to by either cutting out or cutting back where we can, want or need to. 
Prioritising your expenses will cause you to become intentional.
 We're all set to start...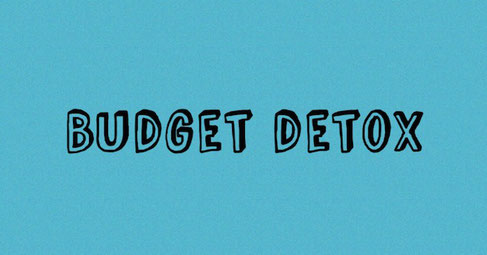 Our phones have become our filing system. They're a watch, calculator, navigator, diary, pc, work, social connections and the list goes on. Even though this expenses is a want, I have started with this one because I do get value and use from this expense but it's also where I make my biggest saving. Here I get to cut the monthly cost and update my phone. Winning! 
I've never owned the very latest model, preferring to be one or two models behind because of the price difference. Over the years of owning an iPhone I have noticed the general release month of the new phones happens around September/October each year and this is a perfect time to take advantage of the reduced prices for the previous models. Sometimes if happy with my current phone after the 24 month plan has ended I just change the data plan to a lower cost. When I do this I can make big savings until I need to update my phone but this year I will update my current phone and lower my plan... as soon as the new model is released any month now.  
2 years ago I stupidly updated my phone because I was heading overseas and thought I needed the updated camera to take photos for my travel website See Cook Islands. Even after being told by someone in the Optus store to wait 2 weeks for the new model to come out to save more, desperation and stupidity kicked in and I updated it signing up for $109 a month for 24 months. I've regretted it ever since. My contracted plan ends this week but I will be waiting for the new release to update my phone to the model right in between. No more $109 expense for this each month as the release is expected in September, just wait a few more weeks Kylie.
No more regrets just savings.
Next month I hope to reduce this cost to under $80 per month instead of $109.
Savings per month  $30>
WHAT TO DO.
When does your current mobile phone plan end? Find out now to see if you're eligible to save money here.
Next, if outside the current contract timeframe check your phone company's monthly phone deals. Check their current monthly call/data plans as well. 
Can you find the right phone and/or plan to cut your monthly expense here?

 

If you're not able to do this yet, mark the date on the calendar when you can so you can come back to this expense.
- Even when not updating your phone it's your responsibility to change your call/data plan at the end of your contract or you'll continue to pay for your 2 year old plan when you could be paying less. It's just wasted money. 
---
This is one of the expenses under the '4 walls' of household needs (food, housing, power/water and transport) that we must cover in our budget. Electricity usage is the most expensive household need in our variable expenses and checking in on this cost is beneficial because you might be able to lower your costs, increasing savings by paying your bills on time, or being offered a better deal for being a loyal customer. 
Comparing your power company to others will give you an idea of how much you could lower your bill.
When we make savings on our power bill we're not only saving money but helping the environment when we consciously use less electricity.
Call your power company this week to have a chat.
I am still happy with my current power company because I receive a massive 46% discount when I pay my monthly bill before the due date.
WHAT TO DO.
Find out from your power company if they're able to save you money to remain a loyal customer ;)
Find ways to cut back on power consumption in the home and be intentional with your usage. 
Turn appliances off at the wall when not in use to stop wasting power (saves up to 10% per bill)
Financial incentives are available until 2030 for solar power rebates. If you've been thinking about installing these to your home to create your own power and savings, check here to see if your state is offering this rebate. 
Upgrade your hot water system to a more efficient solar or heat pump system with help through the government Solar and heat pump hot water system rebate  I took part in this Government scheme over 10 years ago. I can highly recommend the heat pump systems, they're fantastic and I noticed a definite saving of approx. $80 each quarterly bill. Click here to see if it's available in your state and if you're eligible.
Read my article 10 or more ways to lower your electricity bill
---
This expense can be forgotten. We habitually pay this or have it set up as a direct debit for years before realising there's a chance to save money. There are a few elements to this cost which gives you more than one option to save or just get more for what you're currently paying.
It can be one service or a few,  made up of your home phone, Wi-Fi  and maybe your mobile phone charges too if you have them all bundled into one contract. Is your home phone not used or needed anymore? Many people are disconnecting their home phone because they prefer to use their mobile phone instead. Eliminating this would instantly save you money monthly.  
Wi-Fi can be charged for the Mbps (speed) and the data usage required for your home. Some companies will change your contract if you're not currently locked in and offer you a different contract either keeping the same cost to get more data per month and a higher speed or cutting costs because you're able to cut back on usage. 
Last week I called iiNet, my internet & home phone provider to check-in. I was in a 'no lock-in' contract and was able to find a better price! I was given the option of paying $69.99 a month for higher Mbps with the same 500gb or continue receiving the same Mbps/data usage and pay $59.99 a month. Our household of 3 adult kids & myself seem to be happy with our usage, as I don't hear complaining so I decided to lower my monthly cost.
I was able to lower my monthly payment of $71.48 down to $59.99  for a saving of $11.49 a month! 
WHAT TO DO.
  Are you locked in to your current contract? If you've been paying the same amount for more than 2 years there's a good chance you're not locked in and can save money.

 Call your home phone and internet provider and ask them if you're able to lower your monthly contract cost. Discuss all of your needs.

 Find contract options and compare costs. We're almost always able to save money on this expense every couple of years.  
---
* I WILL BE ADDING TO THIS PAGE AS WE GO THROUGH OUR EXPENSE LISTS, ONE AT AT TIME.
CHECK BACK REGULARLY OR FOLLOW FOR ADDITIONAL UPDATES ON FACEBOOK.