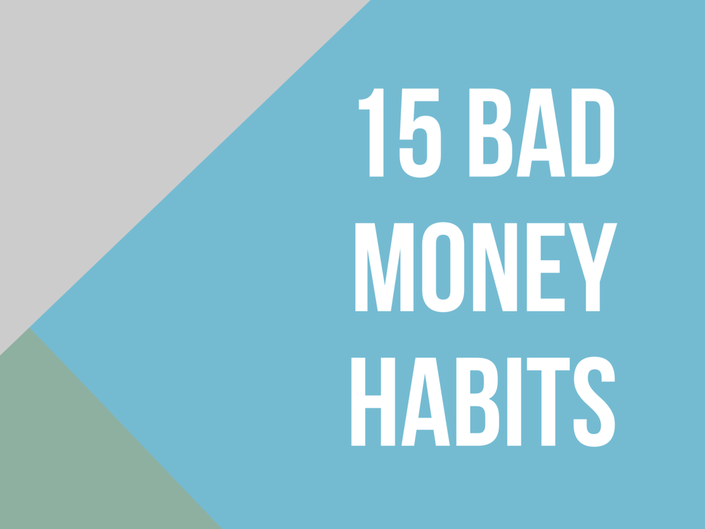 Kylie Forbes 
May 11, 2018
Mistakes are good to learn by if we recognise them and are willing to change. We know when things aren't working but fail to change our ways if it means changing our ways ??
Habits are hard to break and unfortunately all bad money habits have consequences if we continue not to address them, but we can acknowledge these and turn them into good money habits instead.
Here are just 15 bad money habits. Are you guilty of any of these?
1. SPENDING MORE THAN YOU EARN.
A bad habit that creates and deepens debt. Stop buying more than you can afford. Either save for experiences and items or go without until you're income is more than your expenses. Lower necessary expenses to also spend less.
2. NOT ALLOCATING YOUR MONEY EACH TIME YOU ARE PAID.
By not allocating your income to do certain jobs, you're bound for an uncontrolled economy in your household. You'll always wonder where all of your money went. Put your money to work instead, give it something constructive to do and reap the benefits.
3. NOT HAVING GOALS.
Not thinking and planning ahead is also how our money gets out of control. Have some ambition and get what you want. What do you want in life? What do you want to experience? Think about total amounts and how much you will spend in the long run to help you plan ahead. Total future amounts can scare us into goal planning as we realise it could have been better spent.
4. IMPULSE SPENDING.
We all love it, but do we really need it? Ask yourself this when you're about to buy something on impulse. Can you cover the expense? Don't just buy now, worry later. The worry will be for a lot longer than the gratification.
5. NOT PAYING BILLS BY THE DUE DATE.
Don't ignore bills and expenses or they will cost you too much to pay them off and while doing this you'll have to go without other expenses until you're able to catch up. Allocate the money for when they're due and plan to have enough in time to cover them.
6. PAYING TOO MUCH FOR YOUR BILLS AND EXPENSES.
Are you paying too much in a lot of different areas without even knowing? Don't get slack with these as it's easy to
just pay and forget about them. Compare other companies and change the amount you pay to them for their service or product. Pre plan and you won't waste too much money.
7. RELYING ON A CREDIT CARD TO PAY LIVING EXPENSES.
This is not a good way to run your domestic economy unless you're using it to collect rewards points that pay off and if you're very good at using a credit card to pay expenses and instantly transferring the money back on to the credit card. Only recommended for expert budgeteers. Not paying off the balance each month, will send you into debt. Interest will be added after 55 days and this will spiral out to a large amount to repay.
. 
8. PAYING TOO MUCH IN BANK FEES.
Check the amount of bank fees you're being charged, including credit card fees. Your personal bank accounts shouldn't cost you a lot, maybe just a few dollars each year. Find out from your bank if you can pay less fees by opening different accounts. Only use credit cards that don't charge an annual fee and that have the lowest interest rate (another type of fee).
9. IGNORING BILLS AND STATEMENTS.
Letting these bills pile up in a corner or in your inbox until you can be bothered to deal with them is an easy way to get out of control. Going on to payment plans can't be good, it only adds another headache to the mix. Give yourself one less thing to worry about and open those envelopes and emails to find amounts due and pay them, now.
10. PAYING FOR MEMBERSHIPS AND SUBSCRIPTIONS YOU NO LONGER USE.
Don't forget you have a Netflix account or gym membership and continue to let the money come out of your bank account. Either use the service or cancel it and stop wasting money. You must love giving that stuff away?
11. BUYING RETAIL.
I know it can be fun to shop in stores but don't let it be your entertainment. Set yourself limits and go with a semi plan of what you want to buy. You can be smarter by avoiding retail and not paying too much by shopping online from home. Just don't let shopping online be another bad habit. Be realistic, set limits and save for items.
12. BUYING A LOT OF SMALL ITEMS OVER THE WEEK.
Coffees, lunch, parking and all of those $5 purchases add up over time. Don't forget that by doing this only 4 times each week you're spending about $1000 each year. Couldn't that be spent elsewhere? We can all put $1000 to good use instead. Spending money on all 3 of these examples 5 times a week can equal up to $4000 each year.
13. SPENDING MORE MONEY TO RECEIVE DISCOUNTS AND REWARD POINTS.
It's easy to fall for the buy 1 get one half price gimmick. Some companies will offer you further discounts or rewards points for spending more than you intended. Sure you'll get some nice products or points, but how much did it really cost? Were they really free or cheaper in the long run?
14. NOT HAVING AN EMERGENCY FUND.
Not having some sort of emergency stash can be a bad money habit. We tend to live to our income (well, we should) and if there's no left overs for emergencies, we could throw the budget out, going in to debt to pay for repairs or replacements. Be prepared for these moments and have the money there ready for this purpose.
15. NOT HAVING A PLAN FOR RETIREMENT OR INVESTING IN THE FUTURE.
Even though we don't want to think, plan or save for our retirement, especially when were only young, we really have to. Don't leave it and rely on the pension for retirement, it will never be enough. Think about the future and how you can set something up while young to provide for your future and hopefully become a passive income in retirement. If relying on the pension, your quality of life will be restricted as you wont be able to afford any extras in life.
Remember all money has a purpose and it's your job to enforce it.
Keep track of what you do spend over the course of a month or even just 2 pays to recognise where it is being wasted. Look at totals and what you're spending it on to cut these out of your expenses. Turn your bad money habits into good money habits. 
Can you change any of these bad habits? Comment below if you have any bad habits to add and share. This is only 15 reasons and I'm sure there's plenty more out there being practiced.
This is the 3rd article in the series of 'money habits'. Read our 1st article
Do you need to form good money habits? 
And also the 2nd in the series,
15 Good money habits to put into action.
---