Do you have certain ways to save money on your expenses? Certain things you avoid or do to stop yourself from giving your money away every day?
There are many tips and ways that I've adopted to save money which lowers the cost of my living expenses a little in a lot of areas. These are ways I recommend to everyone because they've saved me money over the years. They've helped change my mindset to now look for opportunities everywhere to keep my money.
They're all obvious tips but when reading them in a compiled list, you start to realise that you could easily be saving money.
If you would like to add any tips of your own, please comment at the end of the article.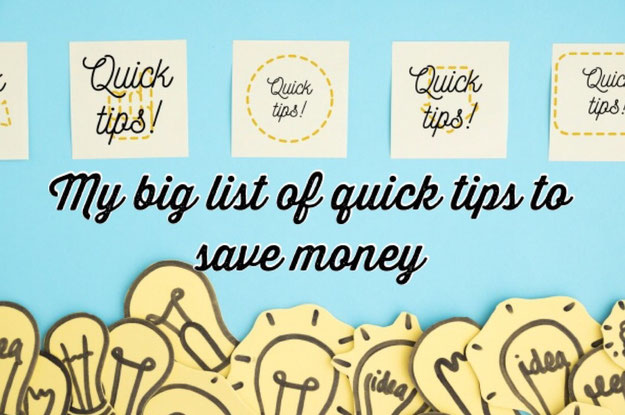 1 Spend less than you earn.
2 Shop smarter.
3 Make eating cheaper.
4 Turn power points off at the wall when not in use.
5 Buy in bulk to save long term.
6 Don't pay for gym memberships, just get moving.
7 Cancel your Foxtel and join Netflix instead.
8 Only buy products you need, not want.
9 Stop buying bottled water. Buy a tap filter to refill your own bottle.
10 Plan meals ahead of time so you know what you'll need.
11 Choose your planned meals by ingredients that are on sale.
12 When buying groceries, stick to your list.
13 Buy generic brand packaged foods, laundry and cleaning products.
14 Use company reward points and Cash Back apps where you can.
15 Grow your own food in any pots or gaps in your garden.
16 Cook double amounts to be able to freeze an extra meal.
17 Don't waste any dinner leftovers, everything can be put in a sandwich!
18 Change all of your light bulbs to LED.
19 Buy family gifts throughout the year and when on sale.
20 Make home made gifts or vouchers.
21 Find cheaper or free things to do on the holidays and weekends.
22 Review all variable expenses (those that are not priced in a contract).
23 Change your mobile phone plan as soon as your first contract ends.
24 Buy new older models of mobile phones, not the current most expensive model.
25 Don't read junk mail delivered to your letterbox to avoid temptation.
26 Buy things you need online as you can save a lot with some research.
27 Pay yourself an allocated amount each week for your spending money.
28 Build, buy or rent a modest house within 30% of your income.
29 Have a 'No Spend week' or month as often as you can.
30 Downsize or get rid of one car if you don't really need two.
31 Take in turns with friends to baby sit kids or have sleepovers instead of costly
outings for the kids.
32 Don't keep up with what others are doing. Work your own goals.
33 Stop eating out and going out so often. It costs too much.
34 Have intimate get togethers instead of expensive parties.
35 Buy less clothing, shoes and accessories, they won't fund your living costs.
36 Don't spend more than half your yearly income on a car.
37 Don't pay full price. You can always find it cheaper elsewhere or online.
38 Choose cheaper destinations for your holidays.
39 Book flights only when on sale.
40 Stay at budget accommodation instead of luxury resorts.
41 Stop spending money on getting nails, tanning and waxing done.
42 Cut all cosmetic tubes and get ALL of the product out.
43 Watch YouTube videos for help with DIY repairs on anything.
44 Don't make instant purchases. Think about it and save for it.
45 Think long term for savings and decision making.
Above all of these tips, I feel the following are the most important.
46 CHANGE YOUR MINDSET ABOUT MONEY.
47 LIVE BELOW YOUR MEANS AND LOWER YOUR REQUIREMENTS.
48 GET ON THE SAME PAGE AS YOUR PARTNER AND TALK ABOUT MONEY TOGETHER.
49 GET ON A BUDGET AND STICK TO IT.
50 ADD SPENDING VICES TO YOUR BUDGET TO DECIDE IF YOU CAN AFFORD IT.
51 ALWAYS MAKE FINANCIAL GOALS TO WORK TOWARDS.
52 ALLOCATE ALL INCOME, EVERY SINGLE DOLLAR SO THERE'S NONE LEFT TO SPEND.
53 REPAY ALL DEBT TO FREE UP MORE MONEY IN YOUR BUDGET AND FEEL LIKE YOU'VE HAD A PAY RISE.
Utilise as many of these savings tips to change the way you think about spending. After all, it's the little bits that add up to a lot over time.