Will you be stuck at home these school holidays because of a lack of funds? Make it free or cheap and explore your own backyard.
Kids activities don't have to be expensive or too far from home, you just need to be creative and innovative to keep them busy. There are plenty of things to do instead of visiting places with expensive entry costs like theme parks and anywhere that involves too much spending.
Here's a list of 20 activities to keep everyone happy and entertained, but most importantly not cost you a fortune. Some of these ideas might also spark other ideas you can add to the comments at the end of this article. I have included a pdf file of this list for you to print out and stick on the fridge for the holidays, which is at the end of this article.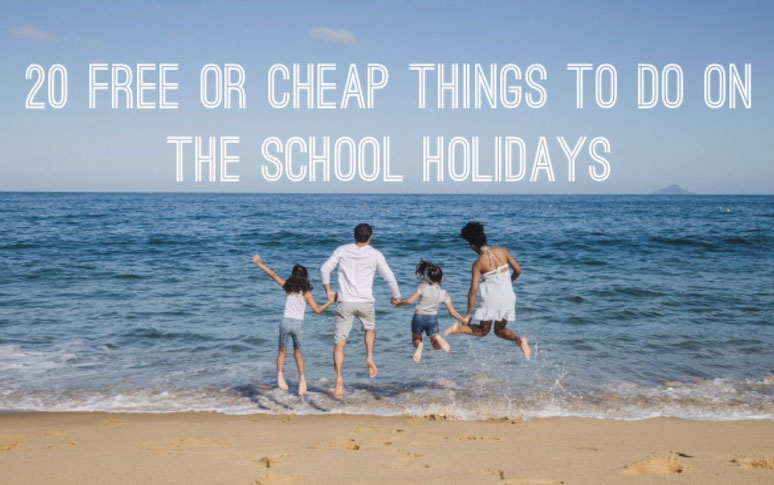 1. THE BEACH
Starting with the most obvious free activity everybody loves. Not only to take the kids for a swim but they can have sand castle building competitions or search for shells and other flotsam. Have a rubbish hunt and do your bit to keep the beach clean from any rubbish. Have a break from the sun in the middle of the day with a picnic under a tree or rotunda. Get Fish and Chips to eat in the shade before hitting the sand and water again.
2. WATER FIGHTS
If the weather is too hot to go to the beach, cool off in your own backyard instead. Use water balloons or guns to get each other soaked. Set up some obstacles for hiding spots to make water fights more interesting. Use a sheet of plastic, garden hose and dishwashing liquid to make your own slip 'n slide.
3. OP-SHOPPING
Spend an hour or two looking through some second hand shops. Give the kids a budget to spend and get them to see how many items they can find with the amount you've allocated them each. This one is a good time filler and will teach them a bit about spending on a budget.
4. GO PROSPECTING
This is a great one to do that you pay for once and go out for free each time after. Get your miners right and go searching for gold and gemstones that you might be able to find in your area. Only adults need to hold a miners right. Any one under the age of 18 who is with an adult holding a miners right is allowed to prospect in the permitted areas. Search online (Google) for more information on fossicking in your area. In Victoria you'll pay $24.20 for a miners right which is valid for 10 years. Other states differ so check your relevant state rules:
No miners right is needed to fossick in Northern Territory or South Australia although you do need to get permission from landowners before entering their property.
www.resourcesandgeoscience.nsw.gov.au
www.qld.gov.au/recreation/activities/areas-facilities/fossicking/licences-permits/purchase
5. GET FREE TICKETS TO TV FILMING
Search for free TV filming tickets online. Register at www.thatstheticket.com.au to be notified when they're available. Alternatively, try each TV channels website to find available tickets to the filming of your favourite TV show in your nearest city.
6. HAVE A BEDROOM MAKEOVER
Instead of it being a chore to get their bedrooms clean, make it fun by 'renovating' their rooms by gutting them and starting again. Pull everything out, vacuum the floor and put things back in. Change the position of the furniture and set up the bedroom in a different way. Have a good clean out of any unwanted items while you're at it.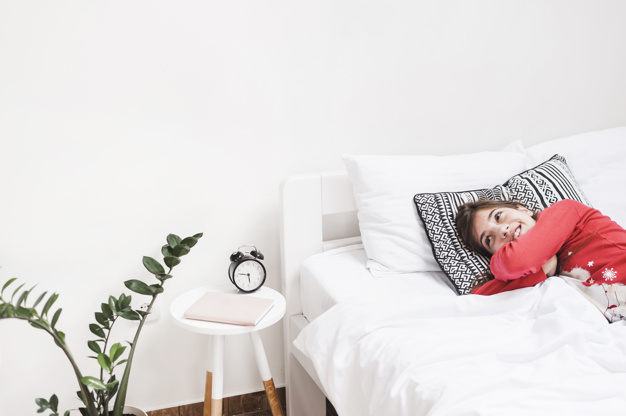 7. PLAY CLASSIC BOARD GAMES
Get the kids off their devices for a few hours and introduce them to your stash of board games. Most of us still have a pile of classic games hidden in a cupboard that are interactive, fun and even educational (without them even realising it). Get Monopoly out to be an entire day of boredom killer and give them a money lesson at the same time. Boggle or Scrabble wil keep their spelling and vocabulary skills up.
8. GET IN THE GARDEN
There's heaps to do in the garden. Get the kids weeding for some pocket money or teach them how to mow the grass. Make some grass heads using jars, stockings and grass seed. Find anything you can to plant some vegetables in and get each child to look after their own. Use any tubs, pots, wooden boxes or old plastic kiddy pools. Use ingenuity and find anything that will hold soil and plants.
9. FREE ENTRY TO VICTORIAN ZOO's
Get free admission to Victorian Zoo's for kids under 16 on public holidays, school holidays and even weekends. Take your own lunch for a really cheap day out. Free entry for kids makes an otherwise very expensive day out a much more affordable activity to do on the holidays. www.zoo.org.au for more details. 
10. TRY GEOCACHING
Also known as a GPS stash hunt. 'Geo' meaning Earth and 'Cache' which is an old French word means temporary hiding place describes geocaching, where people find locations around their community. These locations are listed online at www.geocaching.com.au  Using GPS co-ordinates from the website you are able to locate places where some treasures or trinkets have been left by others. You take what is found and leave your own treasures and trinkets for the next person to find. You'll need a GPS device (mobile phone) and some small things to leave at the locations for the next geo-cacher to find. You'll be surprised how many items are hidden in your area as this has grown quite big from its beginnings in 2000. Look on the website to see how many are in your area and plan a day searching.
11. BACKYARD TREASURE HUNT
If your kids are young and you'd prefer a smaller treasure hunt than geocaching, set up a treasure hunt for your kids in your own backyard or street the night before while the kids are sleeping. Hide some items then either draw some maps or write some clues that will lead your kids to the treasure. This one can also be played using natural items found in nature where you don't have to hide things, but know where certain things can be found. Gum nuts, certain leaves, rocks or flowers. Even things like types of fences or housing can be searched for and found. The items to be spotted or found are endless.
12. VISIT A FARM
Do you have any farms near by that offer interaction with the public? Maybe a petting farm or somewhere to pick your own fruit, vegetables or flowers? Get the kids involved and show them where their food and plants comes from and let them pick their own to buy. 'Pick your own' farms are seasonal so find out what is available in your area at different times of year. There are also farms that allow people to visit, pat and even feed the animals.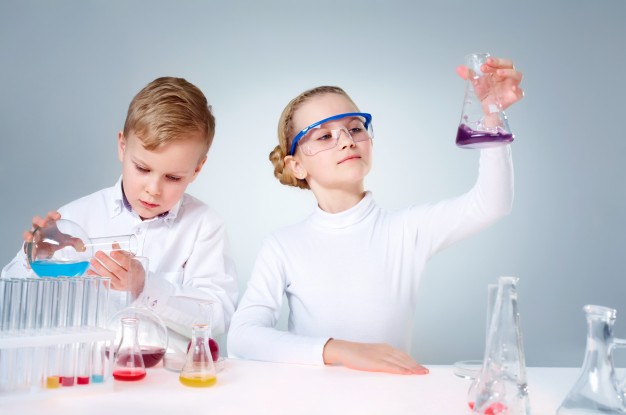 13. HOME SCIENCE EXPERIMENTS
Allow and show the kids how to be mini scientists for a day at home, using ingredients and things you already have. Get them to choose which experiments they'd like to try and help them through their scientific enquiries and who knows maybe some more research to follow. This will teach them, get them curious to learn more and have some fun yourself.
https://www.kidspot.com.au/things-to-do/collection/science-experiments
https://www.mommypoppins.com/kids/50-easy-educational-activities-using-household-stuff
https://www.iflscience.com/chemistry/unfinished-20-fun-science-experiments-you-can-do-home/
14. CATCH A TRAIN TO EXPLORE ANOTHER TOWN
They're a mode of transport not used as often and kids love trains. Catch one to another town to explore for a few hours. Find places you haven't visited or head to your capital city for more to explore. You can incorporate this activity with another free or cheap one in this list. Some places (especially cities) offer free public transport. Jump on a free tourist shuttle or city circle tram (if in Melbourne) to see more sights on the cheap.
15. VISIT A LIBRARY, ART GALLERY OR MUSEUM
Let your kids be interactive with books instead of their devices for a little while and keep reading alive by visiting a library. There's something for everyone to find at a library and sometimes they have book themes during the holidays. Museums and Art galleries can be fun and interesting for kids and adults. Themed holiday activities are sometimes featured and if you're lucky they'll have free or heavily discounted entry on the holidays.
16. MAKE SNACKS AND LUNCHES TO FREEZE FOR NEXT TERM
Spend a day with the kids in the kitchen making batches of quiches, cupcakes, muffins, and slices to freeze for the term ahead. This is not only a fun activity for the kids but it will make life easier for you next term and your kids will learn to cook while being proud of what they've created for themselves.
17. CAMPING IN YOUR BACKYARD
For a free camp out, pitch a tent in your backyard for the kids to sleep in. If you don't have a tent, cover your trampoline with a tarp to create a different kind of tent. If the weather isn't great, let them set up a blanket fort in a lounge room, bedroom or even dining room. If the weather is good (and depending on their age) let them camp in the backyard for more than one night. Let them have a few friends stay over. Cook food on the BBQ or fire pit (weather permitting). They'll feel like they're camping on their own but in the safety of their backyard.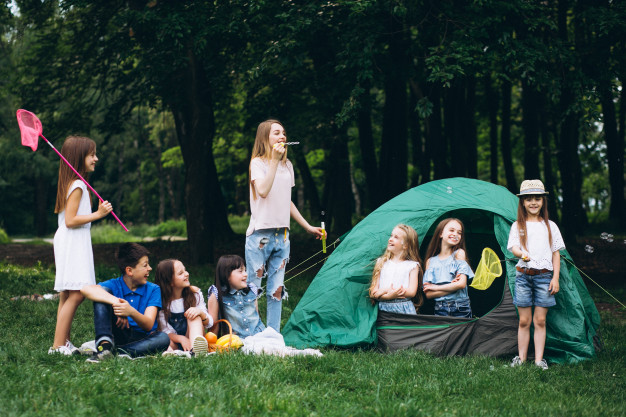 18. KAYAK, TUBE OR FLOAT ANYWAY YOU CAN DOWN A RIVER
Do you have inflatable tyre tubes (truck tyre tubes are the best), a canoe, Kayak or any floatation device to float on? Visit your nearest river and go floating for a few hours. Can you include this in a cheap camping getaway for a few days? We have taken our kids to Jamieson in Victoria which has a great river through town with a caravan park on the bank of the river. Can you find any other great river towns to camp near? Camping for just a night or two will keep family holiday costs down while letting the kids have fun outside.
19. BE A PHOTOGRAPHER FOR A DAY
Watch some You Tube 'how to' videos before heading on a bush walk or beach stroll to find some scenery to photograph. Depending on the current plant season, find some farms around your community. Canola, Wheat, Corn, Sugar Cane and Sunflower crops up North make beautiful local scenery. Take some photos from the roadside or ask the property owner if you can enter the farm to take some snap shots. Look for any other things of interest to photograph. Upload your photos to a website where you can sell your photos …not once but repeatedly. Try selling your pics on these websites.
20. GET CRAFTY TO GIFT OR SELL
Set up a craft table or area for the kids so they can continue creating crafty things over the holidays. Spend days getting crafty. Make things in bulk to give away as gifts or to sell on websites or even locally. Set up a shop on https://www.etsy.com  There are so many different creations to be made over days while home: Finger-painting for the little kids, learn Origami, make sock puppets, crocheting, making slime or play dough. If you don't want too much mess, find the largest cardboard box you can get your hands on (ask your local supermarkets or petrol stations) flatten it and let them draw roads, trees and buildings. They'll spend hours driving cars and trucks around their town map they've made. For the older kids, trying different hair styles, fingernail art, make up or even clothing design will also give them some creative space.
---
20 Free or cheap things to do on the school holidays
An A4 printable to put on the fridge. When the kids are bored or you need an idea to entertain them, chose one from this list.
20 holiday activities.pdf
Adobe Acrobat Document
54.9 KB
---
Google 'free and cheap things to do' in your area to see how many other ideas you can come up with to keep the kids entertained over the school holidays. Put a small amount aside each week to cover this. Keep it to an amount you can afford and won't interfere with your budget. 
Feel free to add any other ideas in the comments below.